| | |
| --- | --- |
| Download link: | Download now |
| Name: | Kingoroot apk |
| version: | v3.4.2 |
| Size: | 4.4 MB |
| Category: | Android |
| info: | One click Android tool |
KingoRoot apk
Kingoroot comes in both PC and APK version. Apk version can root your Android without using a computer. It is simple as installing a app from Google Play Store. Everything is automated. Once install and click to root all we have to do is waiting. It will take some time to root. Rooting process will be differ from device to device. This app can identify best rooting solution that matches and apply if to gain superuser access. It may require internet access in order to download other required tools during rooting process. Kingo developers has their own superuser management tool like SuperSU. It is very use full to manage root permissions of apps after rooting.
How to root with Kingoroot apk
Root Android with ease. Now no need of expert knowledge or harder procedures. Everything is automated. Below describe step by step picture guide on how to root Android.
Step 1: Download KingoRoot
In order to gain root access we need a tool for that. Here we are using KingoRoot apk. First download this app to you phone. Click here to download. Sometimes before download starts it will display message like below. Click "OK" to continue download.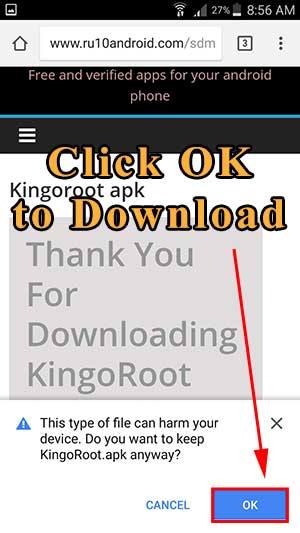 Step 2: Install KingoRoot
Once download complete you will receive download complete notification. In order to install Kingoroot click on that notification to install.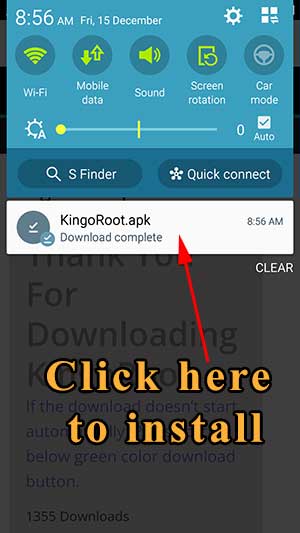 Before installation start you will receive a message "Install Blocked". Don't worry it is a normal message received by every application install from internet. I mean not from Google Play Store. In order to continue enable "Unknown Sources" from settings. To enable Unknown Sources follow below picture guide.
Step 4: Verify Root
Once rooting process completes you can verify that root access is properly granted. To do that we are using RootChecker app. Click here to download and install Root Checker. After installation complete follow below picture guide to check root status of your android.
Step 5: Enjoy
Enjoy full power of Android after rooting. Control everything you want. Try new apps.